elcome, new visitors and old, to Calvin and Hobbes: Unplugged! I'm glad to see you've made it here to the new site. After five-and-a-half years on AOL's servers, I've finally moved on to a domain of my own.

This site's three main features, listed on the right, are an attempt to spread my knowledge and love of "Calvin and Hobbes" to other internet-connected fans.



- Philip
philip@kerzap.com
---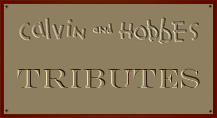 While the comic duo disappeared from the newspapers on December 31, 1995, they have never disappeared from our hearts. Here is a collection of tributes by other artists to Watterson's boy and his tiger.
---


Cartooning's most seclusive artist, Bill Watterson has made a strong effort to avoid the public life that many assume comes with the job. Over the years he has, however, allowed a small number of interviews. This is an attempt to collect those interviews and other stories written about him and his comic in one location.
---


The ICHE is attempting to become an essential, authoritative, and indispensable Calvin and Hobbes reference. It contains articles on characters, locations, books, incidents, and other important topics.
---
Also Available:
Calvin and Hobbes Poetry