About the Book

SOMEWHERE UNDER THE
ATLANTC, A SOVIET SUB
COMMANDER HAS JUST
MADE A FATEFUL DECISION.
THE RED OCTOBER IS
HEADING WEST.

---
THE AMERICANS WANT
HER. THE RUSSIANS WANT
HER BACK. AND THE MOST
INCREDINBLE CHASE IN
HISTORY IS ON...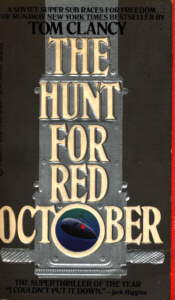 Tom Clancy's first published book was released in October of 1984. The harcover edition is published by the Naval Institure Press, a branch of the US Naval Academy. While the first printer numbered only 14,000, the book has sold millions of copies. Berkly Books released the softcover edition in October of 1985.
Clancy got the idea after reading about a Soviet naval crew that attempted to defecct in 1975. He wrote the book mostly at nights when he was not working at his insurance business.
The book is an increbibly intricate web of plot, suspense, and technical wizardry. Marko Ramius, the Soviet Navy's top submarine commander, has just taken control of the Red October. His mission is to test the sub's new silent "caterpiller" drive. However, Ramius and his select group of officers are not planning to do that. They hope to drive the submarine to the coast of the United States and defect. When the Soviet Fleet begins to head full speed into the Atlantic, the Americans become worried. Soon, Jack Ryan, a CIA analyst, discovers what Ramius is up to.It is up to him to coordinate the operation.
Clancy's source for much of the technical information was Ralph Chatham, a former submariner who became the book's dedicatee. Some naval officers became furious that Clancy would publish a book with such information, but were soon shown that everything in the book was not actually classified. One early reviewer was quick to point out that the book contained some serious faults, but would not correct them because that would reveal what was correct.
In the end, the book was published how Clancy had written it, and this started him off on a new career.